FOUNDED in 1996, Organs 'R' Us ("ORU"), nonprofit Tax ID 94-3333306, promotes the need for organ donors. Through walking and running, transplant recipients, candidates, organ donors, donor family members and others have generated $25 million of publicity promoting organ donation. Although started in the San Francisco Bay Area, ORU has grown throughout the US. Through participation in athletic events selected for maximum publicity and fun, this group showcases their fitness proving that organ transplantation saves lives.

Pledge your support for 96,000 Americans (including 2,500 children) waiting for organs. 18 die each day before a donor is found. Since communicating a desire to donate will allow grieving relatives to make an informed decision, ORU encourages family discussions, not about death, but about offering a life saving gift.

WINNERS IN 1997. ORU received the Community Recognition Award from the California Transplant Donor Network for generating $2 million of publicity promoting organ donation through running and walking. In May, Captain Audrey Cook led the first transplant recipient ORU Centipede to victory in the world's largest footrace.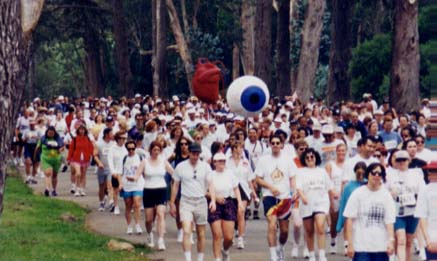 On May 14, 1997, the San Francisco Examiner claimed the ORU Centipede was the "most unique group to run Bay to Breakers in its 86-year history." By capturing first place in the Bay to Breakers Centipede Costume Contest, centipede members Joe Ault, Joe Belarde, Barbara Branaman, Audrey Cook, Gabriel Friedly, Neal Jones, Amy Lewis, Wendy Marx, Paul McVetty, Kelly Olmo, Cathy Olmo and Richard Sizelove received round trip tickets on Southwest Airlines.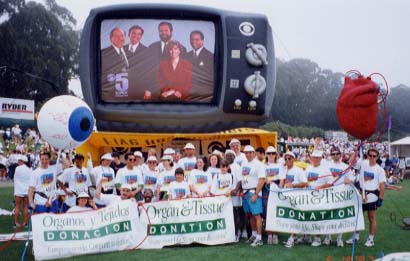 Stanley Miller, graphic designer for the Grateful Dead, joined ORU for the victory in the transplant division of the Sonoma Hit the Road Jack 10K. In July 1997, the first transplant recipient relay team participated in the San Francisco Marathon. Barbara Branaman, Joe Belarde, Chris Chiarello, Audrey Cook, Delaney Corbitt, Mike Corbitt, Gabriel Friedly, Neal Jones, David Pariseau, Femi Sonuga and Matt Spadia received their winning medals on the podium in Kezar Stadium. The ORU relay team appeared in the November 1997 edition of Runner's World Magazine.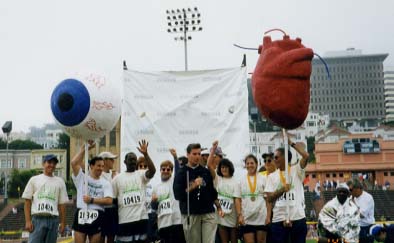 During The Relay from Calistoga to Santa Cruz, ORU ran 197 miles in 31 hours as "Team Delaney" in a race dedicated to 3-year-old Delaney Corbitt who waited since birth for a kidney transplant. Two weeks before the race, Delaney received her gift of life. While runners crossed the finish, President Clinton signed a Relay shirt for Delaney at Stanford Hospital. Captain Paul McVetty (transplant candidate) led ORU to victory at the Christmas Relays to conclude the 1997 season.

STRONG SHOWING IN 1998. At age 3, Delaney Corbitt was the youngest member of the Channel 5 ORU Kiddie Pede, which participated in the centipede division of the 1998 Bay to Breakers. Fourteen transplant recipients and candidates (ages 3–15) sent a powerful message about the critical shortage of organ donors. Led by Kiddie Pede Captain Kelly Olmo (age 11), who received a liver transplant at age two, the children sang the ORU chant and the "Save a Life" song.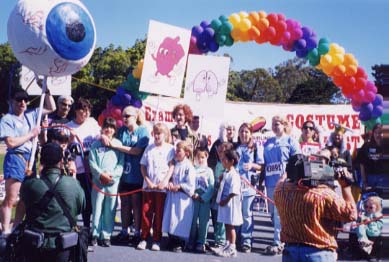 Channel 5 News Anchors Dana King interviews liver recipient, Kelly Olmo (age 9).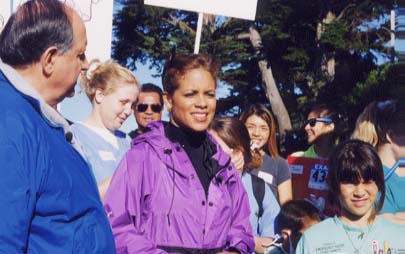 THE GOOD AND BAD IN 1999 ORU member Samantha Wong (age 4) passed away in October following her second liver transplant. The Zoo Luncheon, Bay to Breakers, Providian Relay, Children's Transplant Christmas Party and Christmas Relays were huge successes promoting the need for donated organs.

IN THE NEW MILLENNIUM, ORU joined Mayor Willie Brown on April 16, 2000 at the Marina Green in San Francisco for the kick off of the coast-to-coast Mayorthon promoting donation. In May, ORU took a "Giant" step for donation when liver recipient Lori Gardner, wife of SF Giants pitcher Mark Gardner, joined the children in Bay to Breakers. In July, ORU promoted donation as the beneficiary of the San Francisco Marathon. After "Team Dean," (Karnazes), dedicated his 199-mile solo run in the 2000 Relay to six-month-old Elizabeth Wood, Channel 5's (CBS) Evening Magazine featured Dean, Elizabeth and transplant candidate Paul McVetty. Shortly after Dean's run, Elizabeth received a liver. After waiting four years for a liver, Paul McVetty passed away in October.

ORU GOES HIGH TECH IN 2001 On April 21, ORU enjoyed exhibits, lunch, games and new friends at the Tech Museum of Innovation. ORU, led by Captain Rita Comes, Steve Chin and liver recipient Steve Fratus, again ran 199 miles to victory in The Relay. New runners, Tim and Heidi Cheney, promoted donation by leading "Connor's Feet" 199 miles in honor of Connor Cheney (age 2) who received a liver at four months.

IN 2002, Miranda Ashland (age 8) led the ORU Kiddie Pede in Bay to Breakers and told Channel 7 viewers about her liver transplant (at 6 months). Sister Molly counted 92 naked Bay to Breakers runners and told KGO listeners that "we don't need those organs." Liver recipient Steve Fratus led the ORU team 26.2 miles in the San Francisco Marathon and 199 miles in the Providian Relay. Team Dean (Karnazes) dedicated his solo 199-mile run to 8-month-old David Mehran, who waited in the intensive care unit at Packard Children's Hospital. Six days later on October 26, David received a liver. Tim and Heidi Cheney led "Connor's Feet" and "Connor's Feet 2" in honor of liver recipient Connor Cheney (age 3). Miranda's Miles ran 199 miles for liver recipient Miranda Ashland in a race dedicated to Nicholas Green. During the Christmas Relays, Raaj Gopal ran his first 4.5 mile race around Lake Merced for his wife Gilda Vallente who waits for a kidney.

IN 2003, after "Team Dean" ran 226.2 miles (57 hours) solo in The Relay for one-month-old Valeria Sanchez, Valeria received a heart at Stanford Medical Center. Captains Rita Comes and Steve Chin led recipients Steve Fratus (liver), James Green (kidney), Chris Domine (kidney) and Greg Osterman (heart) with Raaj Gopal (wife, Gilda, waits for a kidney) and Nelisa Fullerton (father, Grant, waits for a liver) to victory in The Relay. ORU members Suzanne Johnk (January), Wendy Marx(October) and Lori Gardner (November), Step to the Plate Foundation, passed away.

JOIN ORU for Future Events: Super Bowl Potluck (January), The Relay (May), Bay to Breakers (May), San Francisco Marathon (July), California International Marathon (December), Children's Transplant Christmas Party (December) and Christmas Relays (December).